Talyoni Daily Renewal Powder Cleanser 3 oz.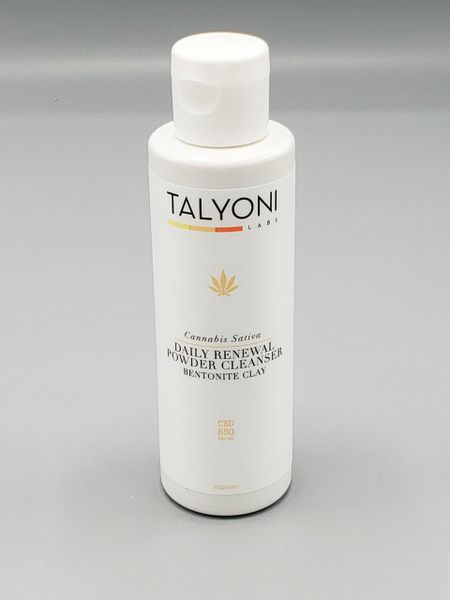 Talyoni Daily Renewal Powder Cleanser 3 oz.
This is a unique powder cleanser that transforms into a rich lather to gently buff away dull dead skin cells. Gentle enough for daily use.
Contains  28.33mg CBD per 1mL
This powder cleanser is formulated with powerful ingredients: 
The brightening rice bran, salicylic acid, and lotus seed extract exfoliate while bentonite clay works to draw debris and impurities from deep within pores, absorbs oil, and reduces inflammation. 
This powder contains Vitamin E and hyaluronic acid that will plump, soothe, and restore the skin.  This is also fortified with highly concentrated vitamin C to reveal radiant tone and texture while the collagen helps with skin's elasticity.
The rice bran helps with gentle exfoliation while Vitamins B1 brightens and softens the skin.  Aloe vera  and allantoin  in this powder  hydrates, calms and soothes the  inflammation
Cannabis has been used in medicine for thousands of years.   It has been proven to treat a variety of medical afflictions, from multiple sclerosis and epilepsy to a wealth of neurodegenerative disorders.  CBD is non-psychotropic and possessed anti-inflammatory benefits.  This ingredient aids in calming stressed skin and mind.  CBD is also a powerful anti-oxidant that protects the skin from free radicals like UV rays, smoke, and environmental pollutants.  Packed with an array of essential vitamins, minerals, proteins, and fatty acids, CBD provides a comprehensive approach to overall skin health. Vitamins A &D repair skin, support cell growth and inhibit oil production to help keep skin soft and supple. B complex vitamins serve as part of the construction process for skin, hair, and nails to prevent dermatitis, hair loss, and other skin conditions. This product is specifically formulated to be eco-friendly, cruelty-free and made with love to soothe your mind, body, and soul. 

Direction: 
Dispense a small amount of powder into palm, adding water to create a creamy paste. Apply to face using circular motions to buff away debris and dull skin. Massage into a lather, then rinse off thoroughly.

Ingredients:  
Oryza Sativa (Rice) Bran, Bentonite, Sodium Lauroyl Glutamate, Hydroxyethylcellulose, Hydrolyzed Collagen Protein, Nelumbo Nucifera Seed Powder, Aloe Barbadensis Leaf Juice, Allantoin, Hyaluronic Acid, Salicylic Acid, Citrus Grandis (Grapefruit) Seed Extract, Cannabis Sativa (Hemp) Seed Oil, Tocopheryl Acetate, Ascorbic Acid


Reviews