Talyoni CBD Pet Formula Tincture 1 oz.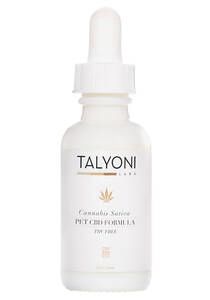 Talyoni CBD Pet Formula Tincture 1 oz.
THC Free Pet Herbal Tincture that includes 250mg of cannabis sativa.
This is for your pet. 
Contains the following: 
MSM supports and promotes healthy joints
CBD helps calm nervous pets and aids in soothing pain
Hemp seed oil delivers heart-healthy omega fatty acids while USDA organic coconut oil helps aid in digestion and promote a healthy, shiny coat

Cannabis has been used in medicine for thousands of years.   It has been proven to treat a variety of medical afflictions.  CBD is non-psychotropic and possessed anti-inflammatory benefits.  This ingredient aids in calming stressed skin and mind.  
CBD is also a powerful antioxidant that protects the skin from 
free radicals like UV rays, smoke, and environmental pollutants.  
Direction: 

Place the oil on your pet's food, favorite treat or directly into pet's mouth.
Recommended Dosage: 0.25mg x pound of pet Half dropper = 4mg of CBD
Ingredients:  
Cannabis Sativa Seed Oil, MSM (Methylsulfonylmethane), Hemp CBD Isolate, Organic Fractionated Coconut Oil (MCT)
Reviews