Talyoni CBD Brightening Serum 1 oz. (New Packaging)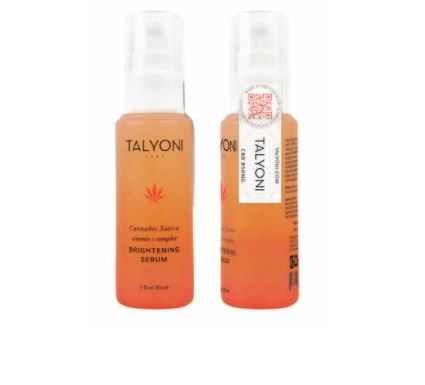 Talyoni CBD Brightening Serum 1 oz. (New Packaging)
Skin conditioning serum for face and body featuring vitamin C and CBD.  
A deeply nourishing serum that goes beyond surface moisture.

Combining the therapeutic and nourishing power of CBD, jojoba and sunflower oils, and squalene, Talyoni Brightening Serum delivers essential antioxidants and omega fatty acids to nourish and plump the skin.  
This is a deeply nourishing serum that goes beyond surface moisture, 
visibly transforming dull complexions; restoring elasticity, hydration, and radiant glow.

This powder cleanser is formulated with powerful ingredients: 

The highly concentrated vitamin C found in this serum helps boosts collagen while diminishing the signs of aging and photodamage to reveal radiant tone and texture. 

Packed with essential oils:   sunflower oil to moisturize skin, j
ojoba oil to lock in moisture and gently soothes and smoothes skin, b
akuchi oil (a gentler alternative to retinol) to boost skin hydration and radiance,  
 orange & grapefruit oils  (an antiseptic) to brighten and provide antioxidants, and h
emp seed oil - to repair, moisturize,  and regulate oil production.  
Cannabis has been used in medicine for thousands of years.   It has been proven to treat a variety of medical afflictions, from multiple sclerosis and epilepsy to a wealth of neurodegenerative disorders.  CBD is non-psychotropic and possessed anti-inflammatory benefits.  This ingredient aids in calming stressed skin and mind.  CBD is also a powerful antioxidant that protects the skin from free radicals like UV rays, smoke, and environmental pollutants.  Packed with an array of essential vitamins, minerals, proteins, and fatty acids, CBD provides a comprehensive approach to overall skin health. Vitamins A &D repair skin, support cell growth and inhibit oil production to help keep skin soft and supple. B complex vitamins serve as part of the construction process for skin, hair, and nails to prevent dermatitis, hair loss, and other skin conditions. This product is specifically formulated to be eco-friendly, cruelty-free, and made with love to soothe your mind, body, and soul. 
Direction: 

Massage a small amount of product onto the face, neck in upward strokes.  
Pat gently until the product is fully absorbed.

For daily use.
 Follow with your favorite Talyoni moisturizer.

Ingredients:  

Caprylic/Capric Triglyceride, Helianthus Annuus (Sunflower) Seed Oil, Simmondsia Chinensis (Jojoba) Seed Oil, Cannabis Sativa (Hemp) Seed Oil, Citrus Aurantium Dulcis (Orange) Peel Oil, Citrus Paradisi (Grapefruit) Peel Oil, Squalene, Psoralea Corylifolia (Bakuchi) Oil, Tocopheryl Acetate
Reviews