SpeedyGel 6 Watt LED Gel Polish Curing Lamp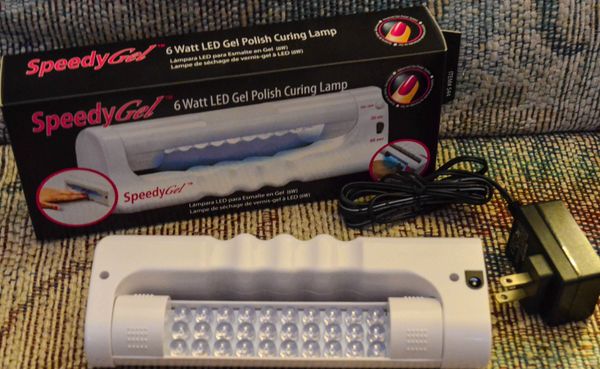 SpeedyGel 6 Watt LED Gel Polish Curing Lamp
SpeedyGel 6 Watt LED Gel Polish Curing Lamp
Lampara LED para Esmalte en Gel (6w)
Lampe de sechage de vernis-gel a LED (6w)
Advanced Gel Polish System
Made in China

Designed to efficiently cure SpeedyGel color gel polish, base and sealer for a rock solid manicure that is perfect for weeks. The unit features a base that can be used as a finger rest or alternatively gripped.
More Info:
Model: 544
Color: White
Materials: LED light, plastic
Electric ( Includes AC Power Adapter and Power Cord)
Power: 6 watt LED power
For use with: SpeedyGel color gel polish, base and sealer
Swivel light housing
Weight: 0.60
Dimensions: 3.5 inches high x 10 inches wide x 1.5 inches deep
Instruction Brochure for the SpeedyGel nail polish system included
Features- Preset 30 and 60 second curing mode
Never need to replace LED Bulbs
Ergonomic Design, Compact slimline shape
Provides consistent performance for 1000's of hours.
Reviews