Reusable Face Sport Mask with exhalation Valves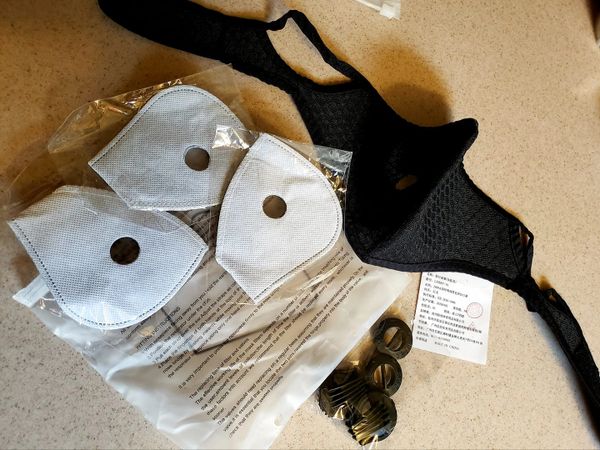 Reusable Face Sport Mask with exhalation Valves
Your purchase includes 1 mask and 3 filters.
Newest Technology to Prevent Airborne Diseases
High level respirator filter 99% harmful viruses and bacteria
Washable and Reusable mask up to 2000 uses.
Ideal for long-term use.
Easy to use.
Adjustable and comfortable nose clip helps ensures 360-degree seal and avoid lens fogging
Hanging ear loop strap keeps the mask from slipping
Ensures maximum protection with the most comfort.
Protects you from illnesses, bacteria, smog, and other harmful particles in the air.
Lightweight
Durable
One size fits all!
Perfect for protection while traveling or for day-to-day use.
Made of premium medical cloth, active carbon filters and elastic fabric
for 100% Protection from bacteria
Features: 
1.     5-layer filter protection This mask has two additional layers of filters.  The traditional mask has 3 layers.  This particular mask guarantees to block out 99.9% of viruses, bacteria, dust, and pollens.  You will be breathing filtered clean air each time you breathe.
The first layer:  breathable layer. Function to block out the larger particles.
The second layer:   traps and isolates dust, chemicals, particulates, viruses, bacteria, fumes, smoke, and odor because of its activated carbon filter
The third layer:  blocks smaller particles up to 0.3 microns dust because it is an electrostatic cotton layer filter.
The fourth layer:   traps smaller particles up to 0.03 microns because this layer is made out of reinforced cotton
The fifth layer:    makes it easier for you to breathe through because it is a non-woven cotton fabric.
2.    Rapid airflow valve system.
Reduces build-up of heat and moisture
Our unique exhalation valve offers maximum inhalation protection while providing minimal exhalation resistance.
Dual one-way discharge valves exhaled breath goes out, and doesn't heat up inside mask.
Reviews