PCA SKIN® INTENSIVE CLARITY TREATMENT®: 0.5% PURE RETINOL NIGHT 1.0 oz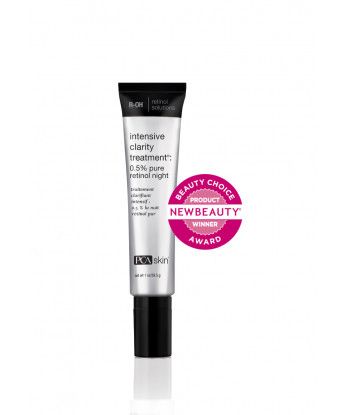 PCA SKIN® INTENSIVE CLARITY TREATMENT®: 0.5% PURE RETINOL NIGHT 1.0 oz
PCA SKIN products are sold only through certified PCA SKIN Professionals
DETAILS:
This nighttime treatment formulation helps to treat acne breakouts, promote an even skin tone and a clear complexion.
KEY INGREDIENTS:
Retinol (Vitamin A) - is converted to retinoic acid in the skin. Vitamin A helps to promote a clear complexion and an even skin tone.

Vigna Aconitifolia Seed Extract - is a botanical that promotes a clear complexion and an even skin tone.

Syringa Vulgaris (Lilac) Leaf Cell Culture Extract – Its major component is verbascoside, a potent antioxidant derived from the stem cells of the lilac plant.

Bakuchiol – is a calming antioxidant and MMPi that promotes a clear complexion.

Phenylethyl Resorcinol – is an antioxidant derived from resorcinol that promotes and even skin tone.
DIRECTIONS:
In the evening, apply a pea-sized amount after cleansing and toning.

Begin by limiting use to twice a week, gradually increasing application frequency to every other night, and then advancing to each evening or as tolerated.

Follow with the appropriate PCA SKIN moisturizer.

Mild irritation may initially be experienced and is not a sign of a negative complication.

This product is indicated for use in the evening only.

Daily broad-spectrum sun protection is critical while using this product.
AVAILABLE IN SIZE:
0.07  oz trial $18.00
1.0 oz $110.00
Reviews