PCA SKIN® INTENSIVE AGE REFINING TREATMENT®: 0.5% PURE RETINOL NIGHT 1.0 oz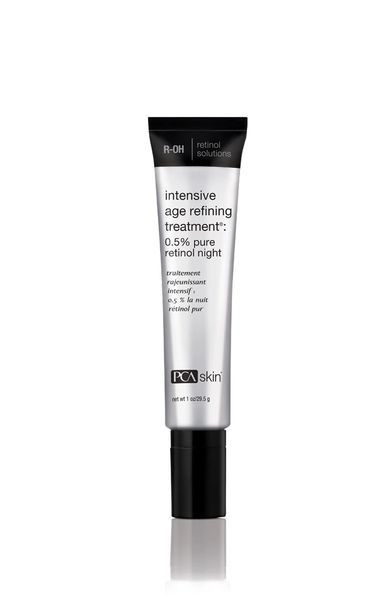 PCA SKIN® INTENSIVE AGE REFINING TREATMENT®: 0.5% PURE RETINOL NIGHT 1.0 oz
PCA SKIN products are sold only through certified PCA SKIN Professionals
DETAILS:
PCA SKIN® INTENSIVE AGE REFINING TREATMENT®: 0.5% PURE RETINOL NIGHT 1.0 oz

This nighttime treatment formulation combines 0.5% pure retinol paired with antioxidants and a host of beneficial ingredients to hydrate and soothes while minimizing the appearance of fine lines and wrinkles
KEY INGREDIENTS:
Retinol (Vitamin A) - is converted to retinoic acid in the skin. Vitamin A helps to promote a clear complexion and an even skin tone.
Myristoyl nonapeptide3 - a peptide that supports skin strengthening.
Niacinamide - a potent antioxidant that improves barrier function, and reduces age-related skin yellowing and redness.
Orange stem cell extract - improves skin elasticity and firmness to reduce  fine lines and wrinkles. 
DIRECTIONS:
In the evening, apply a pea-sized amount after cleansing and toning.

Begin by limiting use to twice a week, gradually increasing application frequency to every other night, and then advancing to each evening or as tolerated.

Follow with the appropriate PCA SKIN moisturizer.

Mild irritation may initially be experienced and is not a sign of a negative complication.

This product is indicated for use in the evening only.

Daily broad-spectrum sun protection is critical while using this product.
AVAILABLE IN SIZE:
0..07oz trial $18.00
1.0 oz $110.00

Reviews