PCA SKIN® C&E STRENGTH MAX 1.0 oz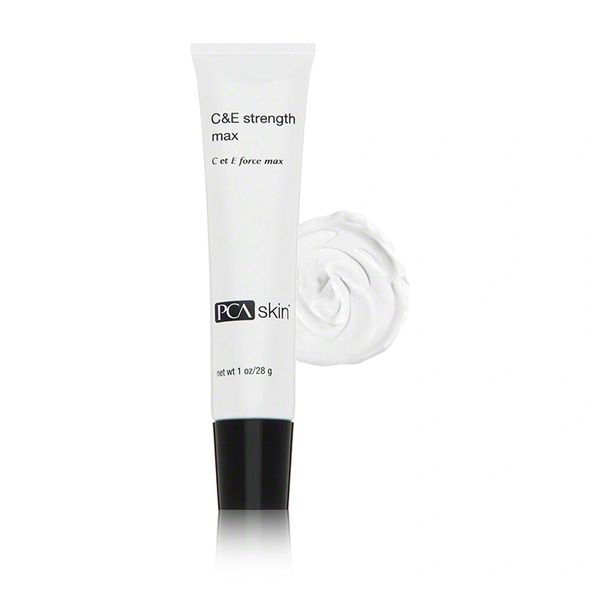 PCA SKIN® C&E STRENGTH MAX 1.0 oz
PCA SKIN products are sold only through certified PCA SKIN Professionals
DETAILS:
This L-ascorbic acid formulation is specifically designed for more resilient skin. The 20% L-ascorbic acid remains stable until applied to the skin, due to its advanced vitamin suspension technology. It helps brighten dull complexions, helps even skin tone, and minimize the appearance of fine lines and wrinkles. (Formerly referenced as pHaze 16)
KEY INGREDIENTS:
· L-Ascorbic Acid (vitamin C) - is an antioxidant and MMPi that is the only bio-available form of vitamin C for the skin. It minimizes the appearance of fine lines and wrinkles while promoting an even skin tone.
· Tocopherol (vitamin E) - is a fat-soluble antioxidant vitamin and emollient ingredient.
· Retinyl Palmitate (vitamin A) - is an ester of vitamin A that is converted to retinoic acid in the skin. Vitamin A helps to promote a clear complexion and an even skin tone.
· Bisabolol - is one of the principal active compounds found in chamomile. It calms and soothes the skin.
DIRECTIONS:
After cleansing, toning and applying any PCA SKIN treatment serums, allow skin to dry.

Apply a pea-sized amount in a smooth, even layer over entire face and neck (chest also recommended).

Allow to penetrate for one minute.
AVAILABLE IN SIZE
0.25 oz trial $23.00
1.0 oz $100.00
Reviews