NINJAion PERSONAL AIR PURIFIER LIMITED EDITION PINK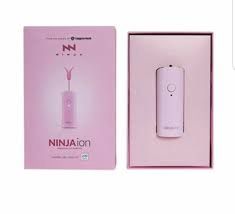 NINJAion PERSONAL AIR PURIFIER LIMITED EDITION PINK
You will only get 1 Ninjaion in pink color. 

Breath safe, clean air.  Helps deactivate most viruses and bacteria.  Aids in purifying the air around the wearer. 
Ninjaion is the newest device that will help you fight and prevent yourself from viruses.

It is a personal air purifier that leads the industry with its ability to release 200 million anions/sec.  
Ninjaion aids in purifying the air around the wearer and helps kill most viruses and bacteria.
It also helps block common allergens and dust particles. Best cleaner/purifier for smell, mold, and smoke.
No filters are necessary. The unique mini design eliminates the need for replacing filters.
Ninja Ion can also be used up to 80 hours for every full charge with its super boosted battery life, aside from that it is very convenient to use due to its lightweight which is barely 35 grams.
Virus filter, wearable, easily held, put away in the pocket.  Wireless. Electric.
Hanging small portable air purifier (Personal air purifier around the neck, and car ionizer air purifier)
Made in Korea. Ships from the USA. 
PACKAGE INCLUSIONS:  NINJAion Device. USB Cable, Lanyard, and User Manual 
PRODUCT PARTS:  Anion Releaser on top, On/Off button and indicator light in the front, and USB Port at the bottom
PRODUCT SPECIFICATION:
Rated Voltage:  DC 5V
Power:  1W
Anion:  2 x 10 (7th power) pcs/cm (3rd power)
Dimension:  74.5 x 29 x 22mm
Net Weight:  35g
Power Supply:  USB
OPERATIONS:  
Charging Method:  
1.  Connect the USB with the device's USB port located at the bottom.  (Please ensure the orientation is correct) 
2.  Connect the other side of the USB cable to a power source or other USB connection socket, the indicator light will be flashing when charging and solid when full charge. 
3.  Please make sure to unplug the USB cable once fully charged. 
Full charging time: about 30 minutes. 
Continuous working time:  About 80 hours ( +/- 10%) 
HOW TO OPERATE:  
Attached the lanyard on the device. press the device ON/OFF button, the device starts working when the indicator is on. Press the ON/OFF button again to turn it off. 
INDICATOR:  
When working, the indicator light will stay solid blue.
When power off, the indicator light will turn off.
When charging, the indicator will keep flashing in green color.
When fully charged, the indicator light will turn blue.
Watch the DEMO:  
Watch the Unboxing of Ninjaion
Other Related Products Available that you may want to check out: 
NINJAion protective cover 6 colors available-red, pink, orange, light blue, green, and yellow
NINJAion limited edition: 3 colors available -red, pink, and light blue
Coppermask 2.0 version
Reviews