M'LIS SWEET All-Natural Fiber Sweetener 8.4 oz. (238 grams)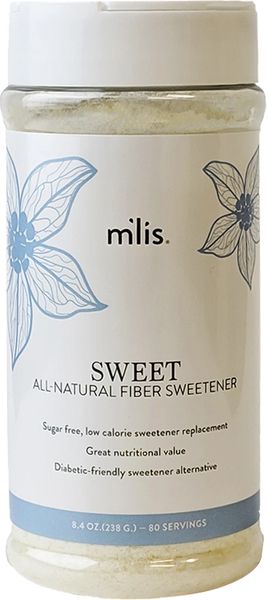 M'LIS SWEET All-Natural Fiber Sweetener 8.4 oz. (238 grams)
M'LIS SWEET All-Natural Fiber Sweetener 8.4 oz. (238 grams)
Product Details
M'LIS SWEET provides 1500 mg of soluble dietary fiber per tsp. and is made from natural plant extracts.

A sugar-free, low calorie, (ultra-low glycemic) soluble fiber supplement that tastes as sweet as sugar and provides multiple health benefits to the body. 
M'LIS Sweet is a 100% instant bio-functional sweetener that contains plant-based fibers and sweeteners. It is 100% natural, vegetarian, and Kosher.

Features and benefits
Substitute sugar and harmful sweeteners

Increases Fiber Intake

Sweeten food naturally

Improve digestion

Sweet is low glycemic and may be helpful for those dealing with blood sugar imbalance
Non-GMO
Candida friendly
Zero impact carbohydrates
Adds a significant amount of necessary dietary fiber to the diet


Ingredients: Fibersource LG (Acacia Fiber, Chicory Root Fiber), Xylitol CF™, Lo Han Extract, Citrus Bioflavonoids, Silica.

Suggested Use: Instead of sugar, use M'lis Sweet™ in your daily diet as a sweetener fortified with fiber. Substitute on a one-to-one ratio. 
WHAT OTHER BENEFITS DOES M'LIS SWEET HAVE?
SWEET is also a fiber supplement. A healthy digestive tract can help boost the immune system.
CAN I USE M'LIS SWEET ON A CANDIDA PROGRAM?
Yes! SWEET can be used with all M'lis nutritional programs. It's soluble fiber and acts like a sponge to aid detoxification.
DO I NEED TO TAKE M'LIS FIBER IF I AM TAKING SWEET?
FIBER and SWEET work synergistically together. SWEET is soluble fiber and compliments to insoluble fiber of the M'lis FIBER supplement.
HOW CAN I USE M'LIS SWEET?
Use SWEET to sweeten herbal teas, on cold or hot cereal, in smoothies or protein drinks, or any food that needs flavor enhancing.
CAN I BAKE WITH SWEET?
Yes. However, do not use Sweet when you want dough to rise. SWEET will kill yeast.
WILL HEAT COMPROMISE THE PROBIOTIC VALUES IN SWEET?
Yes. Heat will reduce some of the prebiotic qualities.
WHERE DOES XYLITOL COME FROM?
Xylitol comes from chicory leaves, hardwood trees, strawberries, and raspberries.
WHAT ARE SOME BENEFITS OF XYLITOL?
Xylitol does not need insulin to get into your cells. Therefore, Xylitol is considered by the FDA as sugar-free.















Reviews