M'LIS REPAIR Tissue Repair Cream 2.5 fl.oz. (74ml)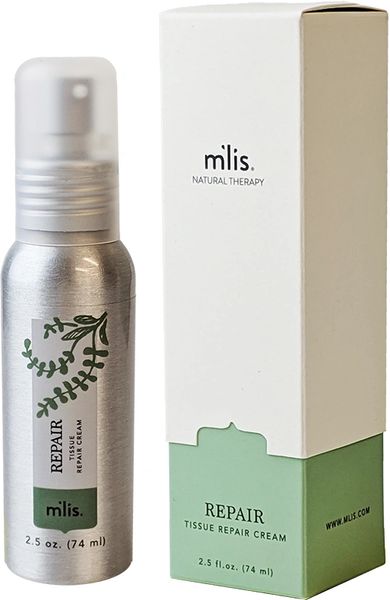 M'LIS REPAIR Tissue Repair Cream 2.5 fl.oz. (74ml)
M'LIS REPAIR Tissue Repair Cream 2.5 fl.oz. (74ml)
Product Details
M'LIS "Repair Tissue Repair Cream" can help to reverse the scarring process and diminish most types of newly formed scars. 
M'LIS Repair Tissue Repair Cream" also helps with all types of dry and damaged skin, including burns, scars, eczema, psoriasis, stretch-marks, abrasions, poison oak, poison ivy, and sunburn.

It has the ability to penetrate up to 25 cell layers to moisturize and provide nutrients that help the skin to naturally restore itself. Bursting with intense moisturizers, Free of chemicals, and safe for use on any type of skin.

Features and benefits:
Minimize and reverse the scarring process




Nourish and condition the skin




Rebuild tissue naturally




Protect and soothe damaged skin

Help repair skin tissue due to psoriasis or eczema
REPAIR HELPS:
Sunburns




Scars

Stretch Marks

Cold Sores

Minor cuts, scrapes, and abrasions

Eczema; Psoriasis

Recent Surgical Scars

Dry and Ultra Dry Skin Conditions

Burns caused by heat, cold, electricity, chemicals, friction or radiation
Ingredients: DI Water, Aloe Barbadensis Leaf Juice, Sesamum Indicum (Sesame) Seed Oil, Stearic Acid, Glyceryl Stearate, Isopropyl Myristate, Persea Gratissima (Avocado) Oil, Retinyl Palmitate (Vitamin A), Ribonucleic Acid, Allantoin, Tocopheryl Acetate (Vitamin E), Panthenol, Petrolatum, Vegetable Glycerin, Cetyl Alcohol, Eucalyptus Globulus Leaf Oil, Methyl Salicylate, Beta-Carotene, Germall Plus, Triethanolamine, Food Grade Color.
Suggested Use: Apply repair every day after bathing. Smooth onto damaged skin areas and massage gently until absorbed. For best results apply evenly several times a day to problem areas. The cream must be used once or more daily until the problem is alleviated. To extend the shelf life of the cream, keep opened product in the refrigerator.  













Reviews