M'LIS Repair Tissue Repair Cream 0.25 oz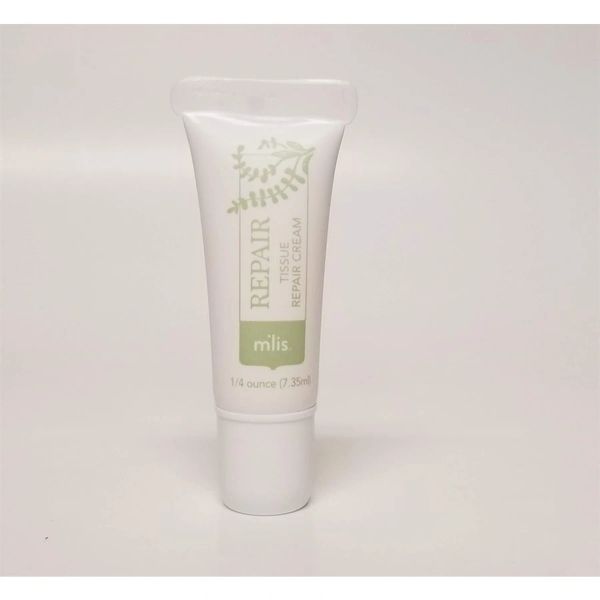 M'LIS Repair Tissue Repair Cream 0.25 oz
M'LIS Repair Tissue Repair Cream 0.25  oz

No other product compares to Repair.  Dry and damaged skin rejoice!  This super-rich moisturizing salve is formulated with eucalyptus, aloe, and advanced botanicals to support less than perfect skin conditions-even the most stubborn ones.  
Indication:  Ultra-dry skin, psoriasis, eczema, abrasions, scars, stretch marks, sunburn, burns, cold sores.  
Excellent for healing any damaged tissue that still has live cells (stretch marks that still have red or purple coloring)
Great product to be used in conjunction with the Contour Body Wrap for clients suffering from live stretchmarks
Helps diminish psoriasis and eczema
Very beneficial for dry, damaged skin, cuts, abrasions, burns, rashes, tattoo laser removal, electrolysis, spa therapies and radiation burns/  
Guaranteed All-natural 100%

FACTS:
Developed in 1979 by a Medical Biochemist at UCLA.  Repair is a transdermal salve ( this means it uses your skin's pores as the delivery vehicle for essential nutrients)
Repair penetrates through 25 layers of the cellular structure ( based on testing performed in Japan by a Japanese Doctor in 1980)
Medically tested and approved.
Used by plastic surgeons around the world.
Repair helps diminish keloid scarring and offers significantly better results (especially beneficial for patients with darker skin tones who have issues with this type of scarring).
Results can be seen in as little as 10 days, with maximum results achieved with continual use.
The optimal treatment cycle for Repair is 28- 40 days ( if you are healthy, your body replenishes it's skin cells every 28 days).
Oncology departments use Repair with breast cancer patients to keep them on schedule for their radiation treatments.  
For your own amazing results, get your Repair Cream here!  

Reviews