M'LIS RENEW Ester-C Hydrating Serum 2.5 fl.oz (74ml)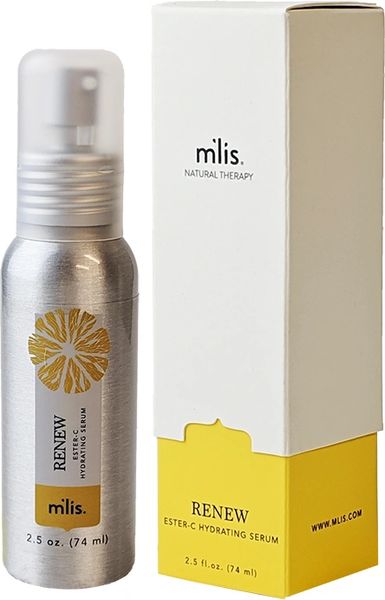 M'LIS RENEW Ester-C Hydrating Serum 2.5 fl.oz (74ml)
M'LIS RENEW Ester-C Hydrating Serum 2.5 fl.oz (74ml)
Product Details
M'LIS Renew Ester-C Hydrating Serum helps to reduce the appearance of fine lines and wrinkles, improve the texture of the skin, and maintain elasticity and hydration. Natural antioxidants protect the skin from sun and environmental damage.

Additionally M'LIS Renew Ester-C Hydrating Serum is effectively absorbed through the skin because of its unique skin penetrating properties.

The unique blend stimulates the skin's essential collagen and elastin, preventing and even reversing the effects of aging.

Features and benefits:
Reduce the appearance of fine lines and wrinkles

Provide a softer, fresher, younger looking skin

Improve the texture of skin

Visibly revitalize, energize and refresh the skin
Helps restore lost moisture to the skin.
Inhibits the production of melanin to even out skin tone and lighten dark spots.
Will not degrade in light, heat, or air, maintaining potency for a ling period of time.
Protect the skin against sun (UV) and environmental damage
Active Ingredients: DI Water/Aloe Barbadensis Leaf Juice, Carbomer Solution, Glycerin, Ethylhexl Palmitate, Simmondsia Chinensis (Jojoba) Seed Oil, Vitis Vinifera (Grape) Seed Oil, Ascorbic Acid, Squalane, Cetyl Alcohol, Dimethicone, Hyaluronic Acid, Germall Plus, Fragrance (Orange), Food Grade Color.
Suggested Use: Use serum morning and night on cleansed skin and apply in upward strokes to cover both face and neck. For deeper hydration, apply M'LIS Apple Stem Cell Moisturizer  following application.













Reviews