M'LIS M.R.P Instant Meal Shake Orange Cream 22.75 oz. (645 grams) (15 servings)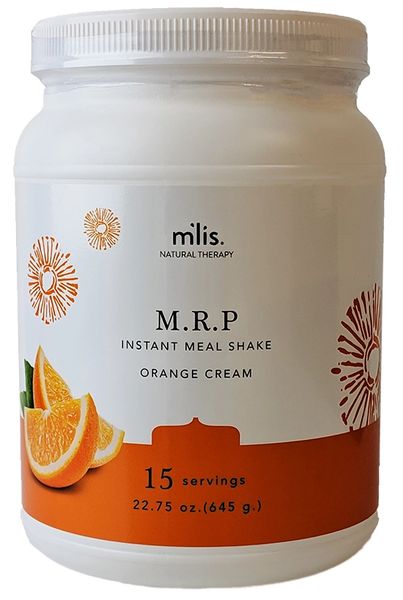 M'LIS M.R.P Instant Meal Shake Orange Cream 22.75 oz. (645 grams) (15 servings)
M'LIS M.R.P Instant Meal Shake Orange Cream 22.75 oz. (645 grams) (15 servings)
Product Details
​M'LIS M.R.P Instant Meal Shake Orange Cream is a a meal or snack replacement that is candida and diabetic friendly.

M'LIS M.R.P Instant Meal Shake Orange Cream can take back your diet.
This product simply nourishes your body with optimal daily support, using only clean all-natural ingredients. An all-natural quick 180 calorie highly nutritious balanced meal.


Features and benefits:
Blood sugar management

Meal and snack replacement

Optimal Daily nutritional support

Faster weight loss and increased health
Great taste
Candida friendly


Ingredients: LOW GLYCEMIC PROTEIN BLEND(WHEY PROTEIN CONCENTRATE,MILK PROTEIN ISOLATE, WHEY PROTEIN ISOLATE) ORGANIC BROWN RICE POWDER, FIBERSOURCE PLUS (GLUCOMANNAN FIBER, CARAGEENAN FIBER, ACACIA FIBER, CHICORY ROOT FIBER), HIGH-OLEIC SUNFLOWER OIL, CONJUGATED LINOLEIC ACID(CLA), VITAMIN AND MINERAL BLEND, STEVIA, LO HAN EXTRACT, XYLITOL (CF), DIGESTIVE ENZYME BLEND (AMYLASE, CELLULASE, LIPASE, PROTEASE), PROBIOTIC BLEND (ACIDOPHILUS & BIFIDUS), OMEGA 3 FATTY ACIDS (EFA'S), NATURAL ORGANIC ORANGE FLAVOR, NATURAL ORGANIC VANILLA BEAN, CITRUS BIOFLAVONOIDS, TRACE MINERALS.
Suggested Use
: 
Meal replacement, use 2 level scoops mixed with 8 to 10 oz. of water.
Healthy snack or in-between meals, mix 1 level scoop with 6 to 8 oz. of water.
Variety, try adding frozen berries, fresh fruit and/or ice.



















Reviews