M'LIS M.R.P Instant Meal Shake Chocolate (14 packets) (Single Serve)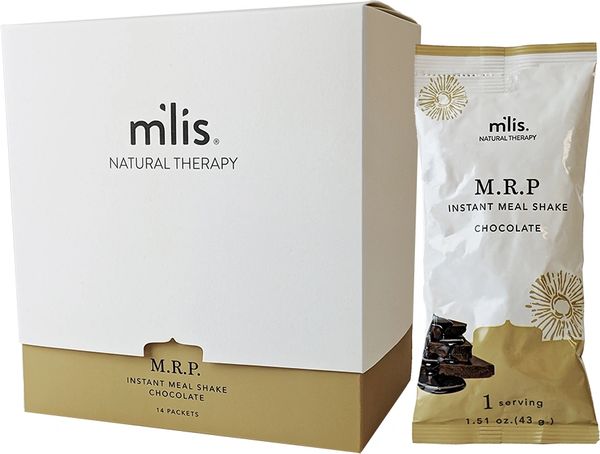 M'LIS M.R.P Instant Meal Shake Chocolate (14 packets) (Single Serve)
M'LIS M.R.P Instant Meal Shake Chocolate (14 packets) (Single Serve)  1.51 oz. (43 grams)
Product Details
​M'LIS M.R.P Instant Meal Shake Chocolate is a a meal or snack replacement that is candida and diabetic friendly.

M'LIS M.R.P Instant Meal Shake Chocolate can take back your diet.
This product is easily and conveniently nourishes your body with optimal daily support, using only clean all natural ingredients. Packed with fiber and loaded with whey protein from grass fed cows in New Zealand.


Features and benefits:
On-The-Go Support

Mood Enhancing

Skin Improving

180 calories per serving

8 billion units of probiotics, 5 digestive enzyme blend, and 36 vitamins, minerals, and nutrients
FREE of GMO's, gluten, lactose, soy, sugar and casein
20 g Protein Whey (grass Fed), 5 g Fiber, and 10 g Carbs


Ingredients: Low Glycemic Organic Protein Blend (Whey Protein Concentrate, Milk Protein Isolate, Whey Protein Isolate), Organic Brown Rice Powder, Fibersource Plus™ (Glucomannan Fiber, Acacia Fiber, Chicory Root Fiber), High-Oleic Sunflower Oil, Conjugated Linoleic Acid (CLA), Vitamin and Mineral Blend, Stevia, Lo Han Extract, Xylitol (CF), Digestive Enzyme Blend (Amylase, Cellulase, Lipase, Protease), 8 Billion Unit Enteric Coated Probiotic Blend (L-Acidophilus, B-Longum, B-Bifidum), Omega 3 Fatty Acids (EFA'S), Natural Organic Flavors, Citrus Bioflavonoids, Trace Minerals.
Suggested Use
: Mix 1 single-serve pack in 8 to 10 oz. of cold water or preferred beverage and shake vigorously.





















Reviews