M'LIS MAINTAIN Anti-Cellulite Solution 9.25 oz. (266ml)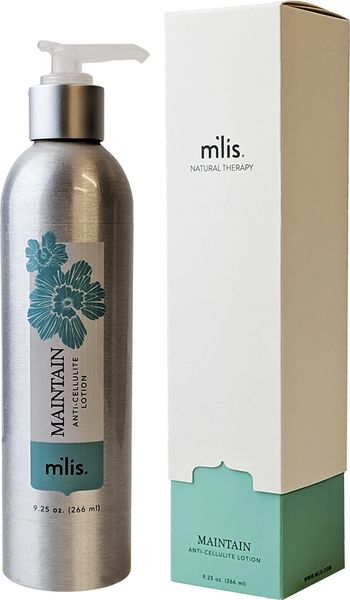 M'LIS MAINTAIN Anti-Cellulite Solution 9.25 oz. (266ml)
M'LIS MAINTAIN Anti-Cellulite Solution 9.25 oz. (266ml)
Product Details
​M'LIS MAINTAIN is an anti-cellulite lotion with the ability to maximize and preserve the contouring, tightening and inch loss achieved through the M'LIS Body Contour Wrap.

It has essential nutrients that increase circulation, helping to condition and tone the skin.

M'LIS MAINTAIN is a milder form of the spa-strength Contour Cream, that is used at home on cellulite-prone areas to stimulate circulation and continue the contouring process on a daily basis.
Active ingredients help to assist in the cleansing and cellulite removal process, leaving the skin with a delicate cinnamon scent.


Features and benefits:
Soften and condition the skin

Aid in the removal of cellulite

Tighten and tone

Increase circulation
Ingredients: DI Water, Aloe Barbadensis Leaf Juice, Sesamum Indicum (Sesame) Seed Oil, Stearic Acid, Glyceryl Stearate, Glycine Soja (Soybean) Oil, Hedera Helix (Ivy) Leaf/Stem Extract, Persea Gratissima (Avocado) Pulp, Cucumis Sativus (Cucumber) Fruit Extract, Camellia Sinensis ( Green Tea) Leaf Extract, Vegetable Glycerin, Allantoin, Panthenol, Isopropyl Myristate, Retinyl Palmitate (Vitamin A), Niacinamide, Germall Plus, Triethanolamine, Tetrasodium EDTA, Cinnamomum (Cinnamon) Cassia Oil.
Suggested Use
: Apply liberally on the body after bathing, massaging lotion into cellulite-prone areas. Apply to dry skin in a circular motion, treating the problem areas of the hips, buttocks, thighs, upper arms, etc. Avoid breasts and bikini areas.
Please Note:  Due to increased circulation the skin may become pink immediately following application, normal coloring will return shortly following use.



























Reviews