M'LIS FLAX SEED Organic Flax Seed Oil (120 soft gels)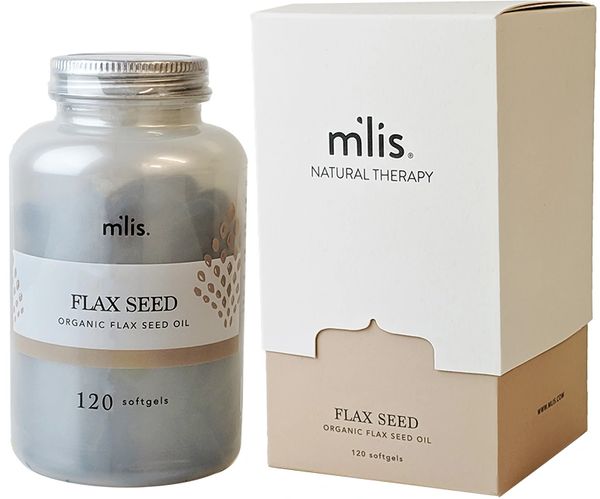 M'LIS FLAX SEED Organic Flax Seed Oil (120 soft gels)
M'LIS FLAX SEED Organic Flax Seed Oil (120 soft gels)
Product Details
M'LIS FLAX SEED OIL is a rich source of Omega-3 fatty acid.
It also contained in flaxseed are Omega-6 and 9. Combined they regulate cholesterol and triglyceride levels in the blood, improve the function of hyperactive children, increase metabolic rate, stamina and muscle fatigue recovery, and reduce inflammation.
This potent oil is ideal for vegetarian diets. Increases metabolic rate, stamina, and muscle fatigue recovery, and decreases inflammation.
Features and benefits:
Alleviate skin issues

Balance healthy blood levels

Level hormonal fluctuations

Support a healthy inflammatory response

Increases metabolic rate, stamina and muscle fatigue recovery
Ingredients: Organic Flax Seed Oil which typically contains: Alpha-Linolenic Acid, Linoleic Acid, Oleic Acid, Other Fatty Acids/Phytonutrients. Other Ingredients: Gelatin, Glycerin, Caramel Color.
Suggested Use
: Take 2 to 6 soft gels daily with a large glass of water
WHAT CAN FLAX SEED OIL DO FOR THE BODY?
Containing Omega-3 and 6 Fatty Acids, flaxseed oil is a good source of healthy fats which the body can use to fight inflammation, and support essential brain and hormone function.
WHAT IS THE DIFFERENCE BETWEEN THE M'LIS FLAX SEED AND SALMON OIL?
They both contain Omega-3 Fatty Acids, but 
SALMON OIL
 has higher amounts of the beneficial DHA and EPA long-chain fatty acids in it.
Additionally, FLAX SEED is plant-based, while SALMON OIL is animal-based.
CAN FLAX SEED BE USED FOR VEGANS OR VEGETARIANS?
Yes! Simply puncture the soft gel and ingest the liquid, discarding the shell.















Reviews