M'LIS FIBER Wheat Bran & Psyllium (200 v-caps)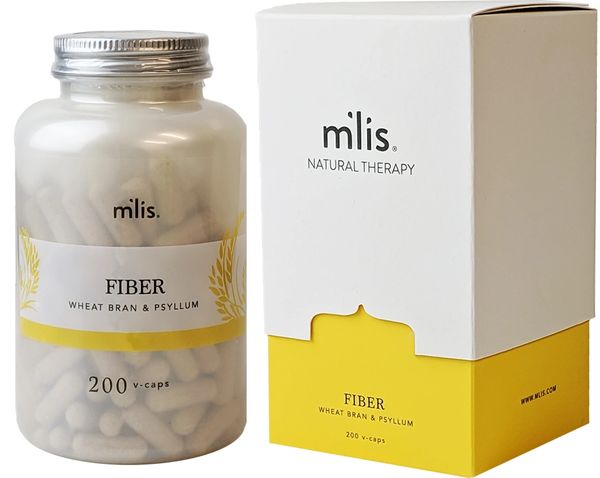 M'LIS FIBER Wheat Bran & Psyllium (200 v-caps)
M'LIS FIBER Wheat Bran & Psyllium (200 v-caps)
Product Details
M'LIS Fiber Wheat Bran & Psyllium is gluten-free and helps restore dietary fiber to the system, cleanse the bowels and intestines without calories, and helps to lower cholesterol levels. 
This specialized formula that contains both soluble (Psyllium) and insoluble (Wheat Bran) fiber, to prevent and relieve constipation and diarrhea. Fiber improves weight loss, relieves digestive pain, and supports natural cholesterol levels.

Features and benefits:
Lower high LDL




Maximize efficiency without calories




Regulate hormones




Cleanse bowels and intestines




Overcome constipation




Protect intestinal canal from putrefactive or pathogenic bacteria cancer-causing agents




Aid Diabetes, Ischemic Heart Disease, Gall Bladder Disorders, Varicose Veins, Diverticulitis, and Appendicitis
Ingredients:
Wheat Bran Powder, Psyllium Husk Powder

Other Ingredients: 
Vegetable Cellulose (Capsule), Rice Flour


Suggested Use
: Take 6-8 capsules daily, 2-3 times daily
Suggested Use
: Mix 1 teaspoon of M'LIS Lift Facial Masque with 3/4 M'LIS Activate Aloe Activator. Apply the masque to the entire face and neck using upward brush strokes with a facial brush. Allow to dry and tighten for 60 minutes then remove by flooding with warm water. 













Reviews