M'LIS ENZYME Digestive Enzyme Blend 90 v-caps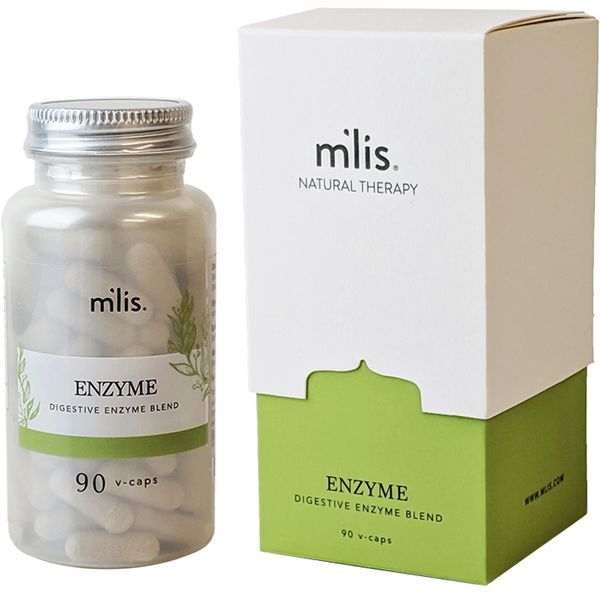 M'LIS ENZYME Digestive Enzyme Blend 90 v-caps
M'LIS ENZYME Digestive Enzyme Blend 90 v-caps
Product Details
​

M'LIS ENZYME Digestive Enzyme provides a blend of natural digestive enzymes to supplement those provided by foods and the body itself.  ENZYME is a preventive tool, assisting digestion, alleviating gastrointestinal discomfort, and restoring energy to the body to improve overall health.

It helps prevent turmoil caused by poor digestion, gas, bloating, diarrhea, constipation, and heartburn. 
Features and benefits:
Alleviate acne

Prevent gas and/or bloating after eating

Improve absorption of nutrients

Promote weight control

Aid proper elimination

Increase immune system efficiency

Help prevent turmoil caused by poor digestion: gas and bloating, diarrhea, constipation, heartburn, and insomnia.

Reduce risk factors of cancer, diabetes, heart disease, ulcers, and other diet-related issues.

Rest vital digestive organs
Ingredients: Omega 3 Fatty Acids, 8x Pancreatin, Enzyme Factors (Protease, Amylase, Lipase, Cellulase) 
Other Ingredients: Vegetable Cellulose (Capsule), Dandelion (Root), Ginger (Leaf), Fennel (Seed), Peppermint (Leaf), Garlic, Billberry, Magnesium, Stearate, Rice Flour
Guaranteed Pure: Contains no sugar, starch, preservatives, fillers, binders, extenders, chemical additives, colors, or flavors.
Suggested Use
: As a dietary supplement, take 1 to 2 capsules before each meal with a large glass of water

















Reviews