Grande Gummies Vegan Collagen Booster 60 counts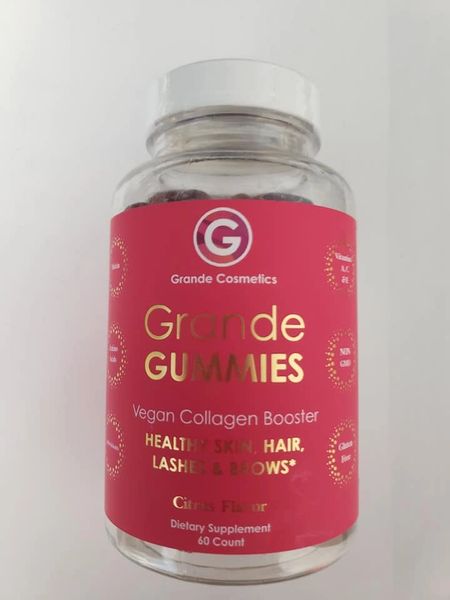 Grande Gummies Vegan Collagen Booster 60 counts
These are beauty-enhancing gummies that will help promotes envy-worthy hair, skin, lashes, and brows.
True beauty starts from within.  These smart, self-sufficient gummies are powered by a blend of vitamins, antioxidants, and amino acids to provide the raw materials needed to support natural collagen production*. Plus, this citrus-flavored goodness is also filled with biotin, folic acid, & zinc to enhance follicle health* for total hair, lash and brow rejuvenation. Initial results can be seen in 45 days with full results in 3 months. Results will vary from person to person.
Here at Grande, we like to think that bigger is always better and our Grande GUMMIES are no exception! We doubled the size of a typical gummy so we could pack a more potent punch of skin & hair-loving ingredients.
Key Benefits:

• Vegan collagen booster gummy
• Promotes envy-worthy hair, lashes, brows, and skin
• Supports natural collagen production for glowing, youthful-looking skin*
• Citrus-flavored with no artificial sweeteners
• Gluten-free, cruelty-free, and all-natural
*These statements have not been evaluated by the Food and Drug Administration. This product is not intended to diagnose, treat, cure, or prevent any disease.

Reviews