CopperMask 2.0 (Lot of 4)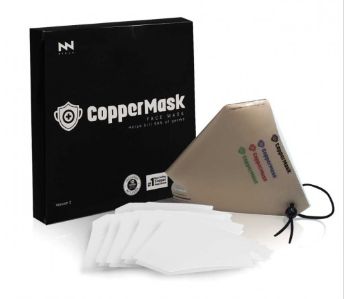 CopperMask 2.0 (Lot of 4)
New and improved Coppermask 2.0 version
Classier, more elegant, bronze color
Thicker film, softer on the skin, less prone to crumpling
Strong antimicrobial layer 2.0 that has easy to use
Helps kill 99.9% of germs
Superior bacteria exterminator effect
Comfortable respiration.
Complete prevention of saliva droplets
Helps prevent dermatitis and allergies
Harmless to humans
Reusable and washable
Good for 3o days
Celebrity-Approved
Packing includes:   
1 pc CopperMask Antimicrobial Film 2.0
10 pcs Non-Woven Fabric Filter (Each washable 2x and can be used for 3 times) 
2pcs Seal Sticker
8 pcs. Colored Coppermask logo ( Black, Red, Green, Blue)
2 pcs Elastic String

1 Box can be used for 30 days. 



Reviews