302 Introductory Kit: Aging/Inflammation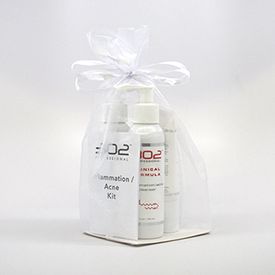 302 Introductory Kit: Aging/Inflammation
(To ensure the best result and the smoothest transition to 302 Professional Skincare, we recommend that the clients begin their journey to healthy skin with one of our Solution Kits.)
Client Introductory Kit: Aging/Inflammation
Valued at $74.64. Packaged in a White Organza Bag with Instruction Booklet.  Kit to transition clients from another skincare line to 302. 

You will receive the following:

• Remedy Rx (1oz / 30ml)
• Revive Rx (4oz / 120ml)
• Purity (4oz / 120ml)
• Dry/Sensitive Cleanser (4oz / 120ml)
• Dry/Sensitive Moisturizer (1oz / 30ml)

MORNINGS 
CLEANSE: Sensitive Cleanser
Shake contents gently before use, these are natural products and some separation may occur. Apply to dry, un-wetted skin as you would a lotion, especially to areas of applied makeup.
Allow to penetrate for 30 seconds.
Apply a second amount and water to work into a non-foaming suspension for another 30 seconds, apply additional amounts of cleanser and water to remove makeup, if necessary.
Rinse immediately and thoroughly until all sensation of 'slipperiness' to your skin goes away.
 APPLY: Remedy Rx and Revive Rx
Apply Revive Rx after cleansing and smooth in. The product may tingle and impart a slight ammonia scent for a moment, Keep away from eyes. 
Apply Remedy Rx while skin is damp, a pea-sized amount should cover the face - provide an extra amount to any irritated areas.  Allow product to penetrate with minimal rub-in. It helps reduce rash and protects against the sun.
Apply DRY/Sensitive Moisturizer, This optional and may be used as needed. 

 EVENINGS 
CLEANSE: 

Sensitive Cleanser

Apply REVIVE Rx and Purity:  Apply as a mixture and use it to cleanse the skin area and then rinse away.   
Apply REMEDY Rx: Take a small amount and spread evenly across the wetted face to help spread a very thin, light layer. It should be unnoticeable. If skin tends to clog easily, apply only 1x per day. 
Apply DRY/SENSITIVE MOISTURIZER if the skin is very sensitive, use only 1x per day, mornings, or evenings.
Avoid eyes with these products. If irritation develops, discontinue. You may continue this regimen until the skin has stabilized. 
NOTES
Avoid liquid makeup of any type. Use loose or pressed powders only, avoid bismuth oxychloride, and any other ingredients other than minerals when choosing powders.
For skin that has been sensitized by exfoliating acids or topical products, the transition to more stable skin will be marked by poor tone, weakness, minor blemishes and other visible problems for a brief period.
The 302 Professional Skincare products will restore natural balance and day by day provide visible recovery and improvement.
Reviews