302 Introductory Kit: Acne/Inflammation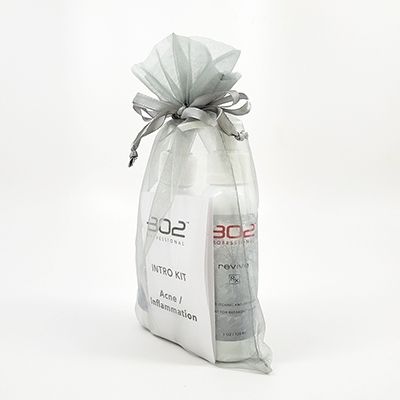 302 Introductory Kit: Acne/Inflammation
(To ensure the best result and the smoothest transition to 302 Professional Skincare, we recommend that the clients begin their journey to healthy skin with one of our Solution Kits.)
Client Introductory Kit: Acne/Inflammation
Valued at $33.70. Packaged in a White Organza Bag with Instruction Booklet.  Kit to transition clients from another skincare line to 302. 

You will receive the following:
• REVIVE Rx (4oz / 120ml)
• PURITY (4oz / 120ml)
• FACE & BODY BAR RX.  
These regimen will work for most inflammatory and pustular acne ( Type 1 & 2)


MORNINGS 
 

Wash gently 1x per morning 

FACE & BODY BAR RX. 

Rinse very well with warm water. If the skin is very sensitive, use cool water. 
Apply Revive Rx and Purity as a mixture, massage in well. 
  EVENINGS 
Apply REVIVE Rx and PURITY as a mixture and use it to cleanse the skin area and then rinse away with warm water.     
Re-apply REVIVE Rx and leave on.  
OPTIONAL 
If acne is inflammatory apply REMEDY Rx after washing with REVIVE Rx and PURITY.  
Reviews