302 FACE BODY BAR RX (1.5oz/45g)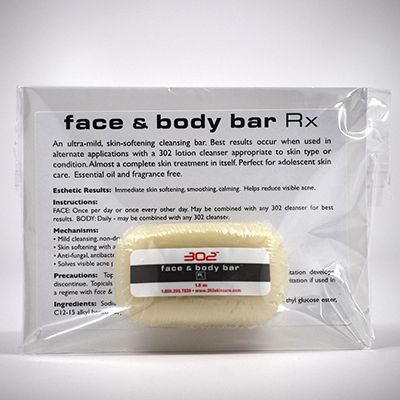 302 FACE BODY BAR RX (1.5oz/45g)
302 Face & Body Bar Rx (1.5oz/45g)
Naturally Antibacterial, Antifungal, & AntiOxidant. Excellent for Acne & Troubled Skin.
Almost a complete skin treatment in itself - softens, cleans, protects, and moisturizes. Perfect for shaving - for back acne, for facial blemishes, for skin smoothing. Ultra-mild. Everyone can use this bar and get complete satisfaction. Best results occur when used in alternate applications with a 302 lotion cleanser appropriate to skin type or condition. Perfect for adolescent skincare and back acne.  Essential oil and fragrance-free.
APPLICATIONS: Fragrance-free cleansing for visible acne reduction, skin softening, smoothing, non-drying. Our original product and still perfect.

Reviews