Viviscal PRO Advanced Hair Health, Professional Strength Dietary Supplements 60 tablets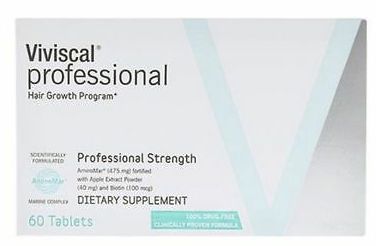 Viviscal PRO Advanced Hair Health, Professional Strength Dietary Supplements 60 tablets
This product is available in our salon but needs authorization if to be purchased online.  Please contact us at:  support@h21central.com.
Retails for $60.00
Viviscal PRO Advanced Hair Health, Professional Strength Dietary Supplements
AminoMar 475mg with Apple Extract Powder (40mg) and Biotin (100mcg). These supplements are scientifically formulated with the exclusive marine complex AminoMar which helps to promote existing healthy growth from within.* Take 1 tablet twice daily for 3 to 6 months.  Best taken with water after a meal.  

*These statements have not been evaluated by the Food and Drug Administration.  This product is not intended to diagnose, cure or prevent any disease. 
ALLERGY WARNING: Viviscal is not suitable for fish, seafood or shellfish allergies.
Warning:  Not intended for use by pregnant or nursing women or by any persons under the age of 18.  If you are taking any medications, consult your doctor or health professional before use.  
Keep out of reach of children. 


Reviews