Valentus Prevail Immune Boost - 1 Box 24 packets (9g each) EXP 10/2021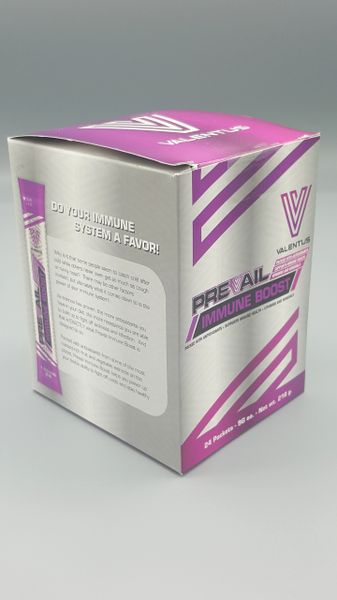 Valentus Prevail Immune Boost - 1 Box 24 packets (9g each) EXP 10/2021
To purchase this product at Preferred Price you need to be our Preferred Customer, please let us know on the contact us form

.  We will get back to you.  Or go to our Valentus Website:  www.myvalentus.com/wellnessadvocate 

For those interested in becoming a preferred member by purchasing this delicious product, please let us know on the contact us form.
Be healthy and feel alive with Prevail Immune.  Each packet contains nutrient-rich fruits and vegetable extracts with antioxidants, vitamins, and minerals that will help boost and support your body's immune system to fight off colds and stay always healthy. 
Ingredients:  Inulin dietary fiber, Organic cane sugar, Citric acid, Natural grape powder, Stevia (leaf), Potassium citrate, Aloe vera powder, Pomegranate powder, Grape skin powder, Panax Ginseng powder, Ganoderma Lucidum powder, Beta-glucan powder, Mangosteen powder, Noni fruit powder, Goji berry powder, Natural flavor.

Simply open the packet and mix contents with 12-16oz. of water. May be used every day to support a healthy immune system

For detailed product info:https://www.valentusproducts.com/prevail-immune

If you have any questions before purchase, please 

contact us

.

DISCLAIMER:   

*These statements have not been evaluated by the Food and Drug Administration. These products are not intended to diagnose, treat, cure or prevent any disease. *Consult your physician before beginning any weight loss program. Prior to using these products, print the ingredients in this supplement, take them to your physician for approval.
Reviews