Salonpas Pain Relieving Patch 20 Patches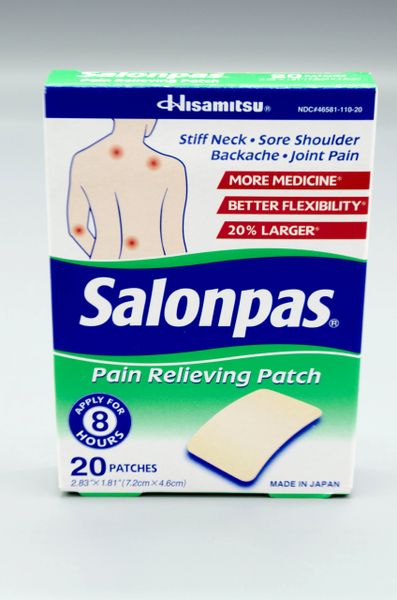 Salonpas Pain Relieving Patch 20 Patches
Salonpas is a famous pain relieving patch. Apply for 8 hours. Great temporary relief of minor aches and pains of muscles and joints associated with arthritis, strains, sprains, stiff neck, sore shoulder, simple backache or joint pain. Also great for bruises.
This package: More medicine. Better Flexibility 20% larger.
Active ingredients: Topical analgesic such as Camphor 3.1%, Menthol 6%, Methyl salicylate 10.0%
20 Patches 2.83" x 1.81" (7.2cm x 4.6cm)
For external use only.
Allergy alert: If prone to allergic reaction, from aspirin or salicylates, consult a doctor before use.
Do not use on wounds or damaged skin, or with a heating pad or if allergic to any ingredients of this product.
Made in Japan
Reviews