PCA SKIN® PIGMENT BAR 3.2 oz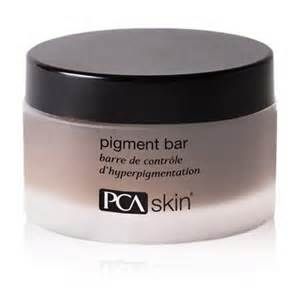 PCA SKIN® PIGMENT BAR 3.2 oz
PCA SKIN products are sold only through certified PCA SKIN Professionals.
DETAILS:
This cleansing bar is formulated with a blend of kojic and azelaic acids to help calm skin and promote an even, bright skin tone. (Formerly referenced as pHaze 13)
For normal or combination skin with discoloration concerns. 
KEY INGREDIENTS:
 Azelaic Acid – helps promote a clear complexion and even skin tone.
 Kojic Acid - helps promote and even skin tone.
 Niacinamide - is a form of the B vitamin, niacin (vitamin B3) that hydrates and promotes a clear complexion. It does not cause the flushing response common with niacin.
DIRECTIONS:
Moisten the enclosed sponge and create a creamy lather. Cleanse the affected area, allowing the lather to remain on the skin approximately two minutes. Rinse with warm water and pat dry. Follow with the appropriate PCA SKIN toner, treatment serums and broad spectrum SPF product in the daytime and moisturizer in the evening. Note: store sponge outside of the container.
SIZE:
3.3 oz $41.00
Reviews