PCA SKIN® ANTI-REDNESS SERUM 1 oz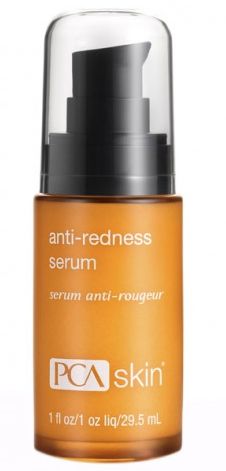 PCA SKIN® ANTI-REDNESS SERUM 1 oz
PCA SKIN products are sold only through certified PCA SKIN Professionals.
DETAILS:
This serum reduces 50% of redness over an eight week period according to clinical studies. This unique serum calms, soothes and improves the appearance of inflamed, sensitive and sensitized skin prone to redness. It will also increase the water moisture levels needed for proper hydration.  Great for clients with rosacea.  (Formerly referenced as pHaze 42)
KEY INGREDIENTS:
Aldavine – is an advanced blend of brown and red algae that calms and soothes skin.

Capparenols – are found in caper buds and calm and soothe the skin.

Bisabolol - is one of the principal active compounds found in chamomile. It calms and soothes the skin.
DIRECTIONS:
Cleanse and tone the face first then apply one to two pumps of Anti-Redness Serum over entire face, focusing on areas of persistent redness.

Follow with the appropriate PCA SKIN broad spectrum SPF product in the daytime.

Follow with moisturizer in the evening.
AVAILABLE IN SIZE:
0.25 oz trial $16.50
1 oz $65.00
Reviews