PCA SKIN® ACNE CREAM 0.25 oz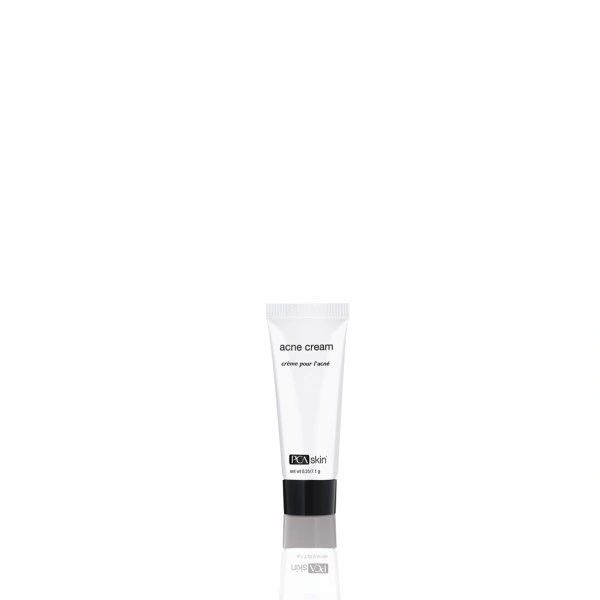 PCA SKIN® ACNE CREAM 0.25 oz
PCA SKIN products are sold only through certified PCA SKIN Professionals.
DETAILS
Contains 5% liquid benzoyl peroxide acne treatment product that penetrates pores to remove existing and prevent future acne breakouts. This product also contains a host of botanical extracts to soothe breakout-prone skin.
KEY INGREDIENTS
Benzoyl Peroxide - Penetrates pores to eliminate existing acne lesions and prevents future breakouts.
Gluconolactone - a gentle antioxidant polyhydroxy acid (PHA) that is calming to the skin, provides moisturizing properties and promotes a clear complexion.
Lactic Acid - an alpha hydroxy acid (AHA) naturally found in milk and sugars. It is part of the skin's natural moisturizing factor (NMF) and moisturizes the skin.
Tea Tree Leaf Oil - promotes a clear complexion.
DIRECTIONS
Cleanse and tone the face first then spot treat the acne area with a smooth layer.
Do NOT use all-over  the face, just spot treat the acneic area only.
Follow with the appropriate PCA SKIN broad spectrum SPF product in the daytime
Follow with a light hydrator in the evening.
| | |
| --- | --- |
| AVAILABLE IN SIZE | |
| 0.25 oz Trial  | $12.00 |
| 0.5 oz | $30.00 |
Reviews