PCA SKIN® A&C SYNERGY SERUM® 1 oz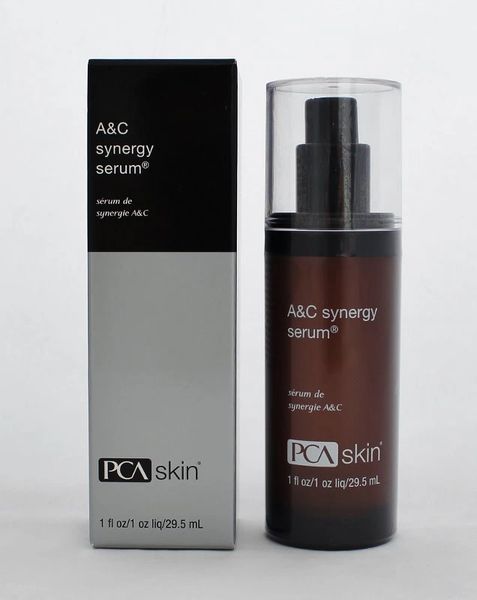 PCA SKIN® A&C SYNERGY SERUM® 1 oz
PCA SKIN products are sold only through certified PCA SKIN Professionals.
DETAILS:
Unveil a clearer and evenly-toned complexion with this multifunctional corrective product that  combines an advanced retinoid complex with witch hazel, alpha-arbutin, licorice root extract, and kojic, L-ascorbic and lactic acids. This advanced treatment serum is designed for breakout-prone skin and uneven skin tone. It promotes a clear, even complexion. (Formerly referenced as pHaze 23)
KEY INGREDIENTS:

Retinol and Retinyl Palmitate (Vitamin A) –are part of a retinol complex that is converted to retinoic acid in the skin. Vitamin A helps to promote a clear complexion and an even skin tone.

L-Ascorbic Acid (vitamin C) - is an antioxidant and MMPi that is the only bio-available form of vitamin C for the skin. It minimizes the appearance of fine lines and wrinkles while promoting an even skin tone.

Alpha-Arbutin - is an antioxidant that also helps promote an even skin tone.

Kojic Acid - helps promote an even skin tone.

Licorice Root Extract - helps calm skin and promote an even skin tone.

Resveratrol –is a calming antioxidant polyphenol naturally found in red grape skins

DIRECTIONS:

Do cleansing and toning first then apply one to two pumps to entire face and neck twice daily for maximum results.

Follow with the appropriate PCA SKIN broad spectrum SPF product in the daytime.

Follow with moisturizer in the evening.
AVAILABLE IN SIZE:
0.25 oz Trial $21.00
1 oz  $103.00
Reviews