MAXIPEEL ANTI-ACNE/DEPIGMENTING TREATMENT HYDROQUINONE N0.2 60ML EXFOLIANT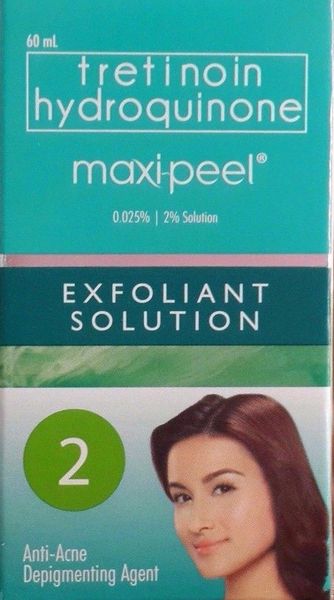 MAXIPEEL ANTI-ACNE/DEPIGMENTING TREATMENT HYDROQUINONE N0.2 60ML EXFOLIANT
For External Use Only:  
A great product to use and to be used preferable before bedtime.  Must use Sunscreen

Each 100g contains 2g  Hydroquinone and 25mg Tretinoin ( See Package)
Benefits:
      
 Contains  Hydroquinone and Tretinoin

·         For treatment and prevention of moderate cases of pimples, blackheads, and whiteheads by penetrating pores to reduce break-outs, eliminating acne-causing bacteria, and remove dead skin cells. 
·         Whitens dark spots, blemishes, and other discolorations such as freckles and age spots to achieve a younger-looking skin. 
Precaution: 
Do not apply to wounded skin and avoid areas near the eyes and mouth,  Limit application of product to only 10% of the body surface consisting of the face, neck and elbow. 

Dosage & Administration:
Use once a day, preferably before bedtime ( see inner side of the box for more details)

WARNING:
Prolonged use (beyond 2 months) of Hydroquinone may cause Hyperpigmentation known as ochronosis, in treated areas of the skin exposed to sunlight.  This product is not recommended for use of pregnant and lactating women and should not be used on children under 12 years of age.

Avoid excessive sun exposure. It is best to use with Maxi-Peel Sunblock Cream while undergoing exfoliation to protect your skin from harmful UV rays and to avoid reddening.

Purchase your own now.
Reviews