$1 Chocolate Bar World's Finest Chocolate (10 pcs) Choose Type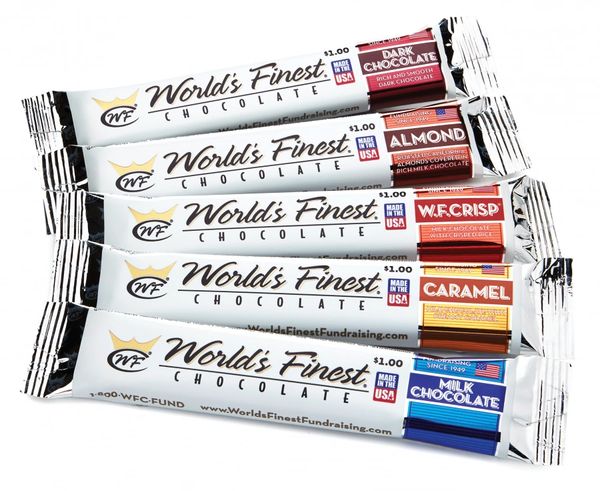 $1 Chocolate Bar World's Finest Chocolate (10 pcs) Choose Type
FRESH STOCK, NOT FROZEN! 
Chocolate bars of premium quality that taste great and are for a great cause.  
You will get 10 chocolate bars, 2 of each type or you can request whatever type you like for a total of 10 bars.  Send us a note thru our contact page here. 
A.  ALMOND (1.3oz/37g) Roasted California Almonds Covered in Rich Milk Chocolate

B.  CARAMEL (1.3oz/37g) Milk Chocolate With Creamy Caramel 
C.  MILK CHOCOLATE ((1.3oz/37g)
D.  W.F.  CRISP (1.15oz/32g)
E. DARK CHOCOLATE (1.3oz/37g)

Each World's Finest Chocolate has 
a Coupon for FREE ONE YEAR membership to www.threewinners.com/wfc, a coupon website featuring coupons to local restaurants and merchants
Reviews